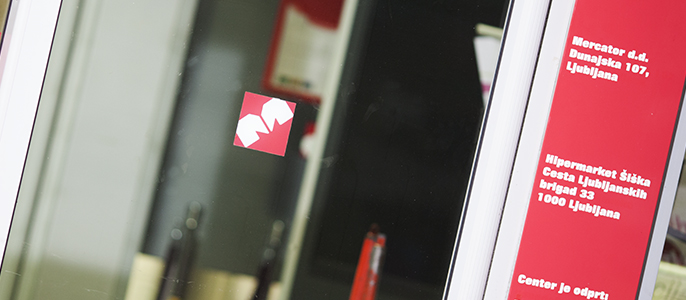 Franchise stores
Mercator became involved in franchising relatively early by Slovenian standards. Under Mercator trading companies at the time, the first franchise contracts were concluded in 1991. All the contracts involved the leasing of franchise stores owned by Mercator and a large part of the franchise holders were former Mercator employees.
The Mercator franchise system is based on a relationship established between two legally and commercially independent contracting parties and is founded upon mutual loyal cooperation and respect for sound business practices.
Most of the franchise holders are connected with one of Mercator's wholesalers through the computer system, allowing them to order their goods directly, thus ensuring high-quality supply.

All the instructions, rules and standards that apply for the operation of Mercator stores are used for franchise units directly or, if required, are adapted to the specifics of the franchise units in advance. The instructions, rules and standards are collected in the Operation of Franchise Units Manual.
All the main recognisable elements of the overall graphic image of Mercator stores are used for the image of franchise units. The overall image forms the basis for the design concept of a specific store. Apart from the sign saying that the store is a franchise unit, with an indication of the franchise holder – the external appearance has the same appearance as Mercator stores.

We invite all traders to enter into a franchise relationship with Mercator, including traders that already buy our products. We focus special attention on traders supplied by the competition and new traders thinking of opening a retail unit.

By becoming part of the Mercator franchise system, the franchise holders enjoy a number of advantages, including:
the right to use the Mercator trademark;
competitive sales, payment and other conditions;
professional assistance in determining the range of products and store design;
the regular, quality, comprehensive and on-time delivery of goods to the store;
involvement in selected sales and promotional campaigns, organised by Mercator for its network of stores.
For further information, please contact:
Mr. Amer Bećirović
Director of Sales, HoReCa and Public procurement
T: +386 (0)1 560 11 10
M: +386 (0)51 287 272
E: amer.becirovic@mercator.si
Mr. Vito Šaruga
Head of Franchise stores
T: +386 (0)1 560 339 0
M: +386 (0)30 996 100
E: vito.saruga@mercator.si